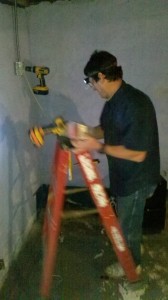 PureSpace offers complete property restoration and industrial cleaning services in Oregon and SW Washington State. We use cutting edge, non-toxic products and technologies to restore buildings and materials without leaving harmful residues or messy clean-ups. We specialize in mold prevention and removal, odor elimination and water and fire damage restoration.
We are a local Portland company with a dedicated, hard-working staff. Keep reading to learn more about us!
Matt Ballou – President
Matt has worked with PureSpace since 2009 in several different capacities. Prior to starting with PureSpace, Matt worked in the restoration and building services industry in both operations and sales. He has owned and operated the Portland, OR branch for PureSpace since 2010.
Matt earned his bachelor's degree from Grand Canyon University, where he met his wife, Cherise, in 2001. They spent ten years in the desert but decided to take on the challenge of opening their own PureSpace office while returning home to the Northwest to be with family. Cherise manages a children's tutoring program aimed at serving underprivileged youth.
When not removing mold or drying out buildings, Matt volunteers with his dad, Norm, coaching high school basketball. He enjoys almost any sporting activity, and tries to get away to Central Oregon and Montana for the occasional weekend fishing adventure.